Area of application
LT lean air units are often used in the chemical industry. In chemical processes, e.g. in the production of synthetic resins or lacquers, lean air is used to supply solvent boilers and reactors. The normal oxygen content in air (which is about 20.95 Vol.%) is to be reduced to a defined proportion (usually 4 to 10% Oxygen in mixed gas). For this purpose, technical air (compressed air) is mixed with nitrogen (N2), so that lean air with a defined Oxygen (O2) concentration is generated.
Why should you use a Lean Air Unit from LT GASETECHNIK?
Keeping the specified oxygen content on the defined level has an influence on the quality of the production process and furthermore has safety reasons. Lean air is often used in a potentially explosive atmosphere. If the maximum permissible oxygen concentration is exceeded, this can lead to detonation and, as a result, to serious accidents For producinglean air in hazardous area appropriate regulations must be ob-served and adapted components must be used.
Depending on customer specification, LT GASETECHNIK lean air systems are equipped with a gas analyzer (partly also compliant with the safety integrity level SIL 1 or SIL 2), which measures the O2 concentration in the mixed gas. The mixing result is thus permanently monitored and optimized; In addition, the control can safely prevent inadmissible oxygen concentrations.
LT GASETECHNIK has more than 45 years of global experience in gas mixing plants. With us you are on the safe side!
Equipment variants
LT Lean Air Units are always designed according to customer specifications and are equipped accordingly. The following equipment variants are common:
Design of the unit for a hazardous area or for non-hazardous area
Gas filter on the gas inlet (police filter)
Pressure control of compressed Air and Nitrogen on the same mixing pres-sure
Measurement of the volume flow (temperature- and pressure-compensated)
Nitrogen bypass
Pressure controlled and/or volume-flow controlled
Storage of the mixed gas in a buffer tank, e. g. if the demand quantity varies
Designed for continuous or discontinuous demand
Autonomous system with local touch-screen control panel and bi-directional connection to a higher-level process control system
Gas analysis, also in SIL 1 or SIL 2 versions
Stainless steel version for aggressive environments
System for outdoor or indoor installation, in a steel cabinet or in a rack
Pressure holding valve, for vacuum
References(excerpt)
BASF Münster, Germany
Installation in ex-area
Capacity 40 cubic meters per hour
Inlet pressure:
Outlet pressure:

5 delivery points
0,5…1 bar and 1,5…2 bar

Buffer vessel with 500 litre
Controller and gas analyzer
(in non ex-area)
DSM Meppen, Germany
Capacity 200 cubic meters per hour
Inlet pressure:
Outlet pressure: 3 bar
Buffer vessel with 90 litre
Nitrogen bypass
Controller and gas analyzer
(signal transfer to the higher level process control system)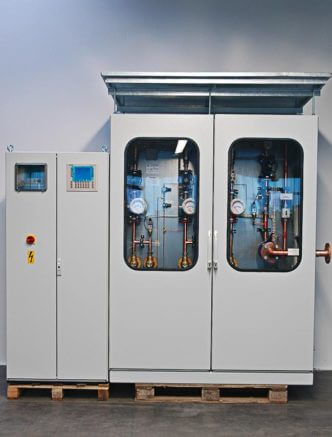 Synthopol Buxtehude, Germany
Two lean air units:
Capacity each 400 Nm³/h
Inlet pressure:
Outlet pressure: 3 bar
Buffer vessel with 3000 liter
Controller and gas analyzer
Outside errection
Control with gas analyzer, bus connection to the higher-level process control system for bidirectional exchange of all process data, alarm signals and fault messages
BASF Guadalajara, Spain
Installation in ex-area
Dynamic unit
Unit performance 250 Nm³/h
Inlet pressure:
Outlet pressure: 3.5 bar
Safe supply defined oxygen concentration in your process air.
This article as PDF: LTG-Magerluftanlagen-2017-01