To supply the roller cooling furnace of a float glass production line in Central Asia with diluted sulfur dioxide (SO2), LT GASETECHNIK supplies the system technology of the SO2 supply system.
The SO2 plant receives:
Sulfur dioxide
1.5 to 8.5 barg
125 to 1250 Nl/h
Nitrogen
2.0 to 5.0 barg
0.4 to 1000 Nl/h
Compressed air (dry)
The SO2 supply line generates from this the following gas mixtures:
Outlet pressure: Min. 0.5 barg
Outlet supply 2x: 40…400 Nl/h SO2/N2
Outlet supply 2x: 40…400 Nl/h SO2 with N2 or air
Supply volume : Max. 1250 Nl/h SO2
The SO2 supply line consists of:
Pressure control panel
Distribution panel on 4 lines
Terminal box for the automatic recording and transfer of alarm messages and operating data
4 heated hoses
Gas warning system, horn, light
Gas warning sensors can be attached to the kiln near the points of use, which can also be switched to the common gas warning center. Optical/acoustic signaling should be installed close of each point of use.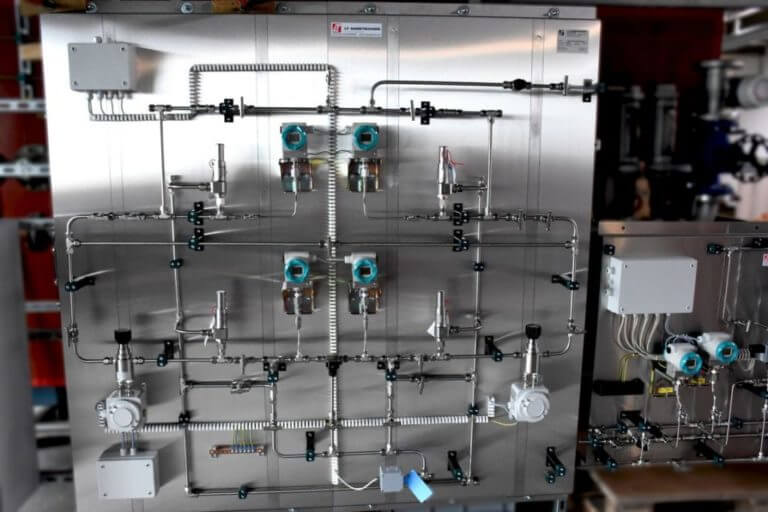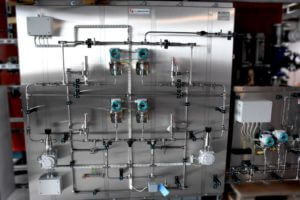 The main system components are designed redundantly; this is how the SO2 supply system ensures the safe supply of the flat glass production line at all times.
In the event of a pressure drop in the SO2 vessel in operation, this is displayed to the central customer control room. From there, the switch-over command is sent to the station. This is processed in the control cabinet and implemented via a solenoid valve.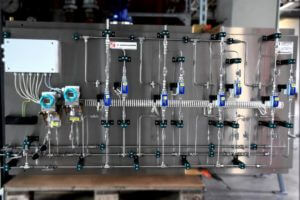 All alarm messages and operating data are made available in the control cabinet and from there transmitted to the customer DCS: i. e. pressure, flow and temperature data.
Most of the plant is erected in the SO2 room, some parts of the system are set up in the production hall.
This way, employees are properly protected against excessive SO2 concentrations in the breathing air.
Brochure for download: LTG-SO2-Versorgungsanlage-2016-09