About L+T GASETECHNIK Klöpper-Waldmann GmbH & Co. KG
Development and manufacturing of high-performance gas installations, gas mixers, mass-produced fittings and customized control solutions. Production of standard equipment, as well as custom-designed systems with the highest standards of engineering, safety and quality. Complex technical requirements are at the same time for us stimulation and incentive – just beyond standards.
We supply systems and fittings for a wide variety of industries and industrial fields of application for gas engineering applications with flammable or non-flammable, corrosive or toxic technical gases. Our range of products extends from fittings manufactured in small series over standard gas mixing systems to individually planned large-scaled gas mixing systems and pressure/volume control system. L + T GASETECHNIK Klöpper-Waldmann GmbH & Co. KG plans and manufactures, including the associated control and analysis technology – from concept to commissioning – everything from a single source.
We are active in the following industry sectors
Automotive Industry
Machine and plant engineering

Industrial kilns
Welding and laser technology
Shipyards

Chemical Industry

Chemistry
Synthetic Resins

Electronics, Measurement, Control and Analysis technology
Iron,  Steel and Non-Ferrous Metals

Electroplating
Copper
Steel
Energy supplyDeNOx technology
Liquefied gases

Cryo technology
Liquefied gases

Glass industry

Float glass
Glass flacons
Drinking glass
High-Tech Industry

 Analytics
Electrical Industry
Semiconductor Technology
Heating Technology
Water

Industrial Gases
Food Industry
Pharmaceutical Industry

Bio-Sensors
Health Care
Medical Technology
Pharma
ISO 9001 certification
L + T GASETECHNIK Klöpper-Waldmann GmbH & Co. KG is certified according to DIN EN ISO 9001: 2015 for the manufacture and development of high-performance gas technology systems, gas mixers, fittings and tailor-made control solutions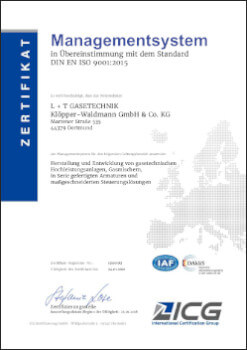 L+T GASETECHNIK Klöpper-Waldmann GmbH & Co. KG in numbers
Bespoke gas supply plants
m² office and workshop area