We have been operating as a family business specialising in process plant engineering and plant safety since 1976 and employ over 170 permanent staff in Germany, Austria, Poland and Switzerland. Every year, the weyer group completes over 1,000 projects for customers from the chemicals, pharmaceuticals, mineral oil, supply and disposal sectors as well as associations and authorities.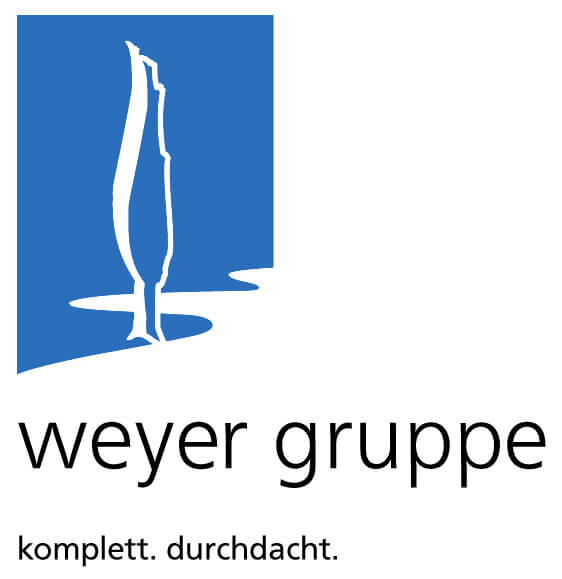 Our values
In every respect alround. smart. Our values are the focus of our corporate culture. They shape the common identity within the weyer gruppe and guide us every day.
Quality is the basis for our lasting existence. It is therefore not an end in itself, but the foundation of our economic existence.
Customer orientation – Customer care and support is a high priority in our company, the primary goal is the satisfaction of our customers.
Trainingof our employees – Our employees are the capital of our company. In order to be able to maintain or expand our position on the market, our employees receive regular further training and are always informed about the latest state of the art.
Collegialityis writ large in our family business. Flat hierarchies and short decision-making paths are lived out in the group of companies, optimised and developed on a daily basis.
We live tolerance and cultural diversity in our dealings with one another – regardless of origin, age, gender, faith or sexual orientation.
Everyone is welcome here.
Healthy growth characterises our group of companies – The weyer gruppe grows through innovation. Due to the high quality of our employees and their expert knowledge we are getting better and better.
In our group of companies, work safety is an important building block for safe, healthy and competitive workplace design. Our goals are the safety and health of all employees, the safe execution of the assigned tasks as well as satisfied and motivated employees.
The history of the weyer group
Foundation Horst Weyer office for process engineering
Foundation of the PROBIOTEC GmbH
Foundation of the Dahlhoff & Partner GmbH
The Horst Weyer office for process engineering is merged with Dahlhoff & Partner GmbH and renamed horst weyer und partner gmbh
Foundation of Weyer und Partner (Switzerland) AG
Foundation of weyer IngenieurPartner GmbH, formerly Großmann & Partner Ingenieure
Co-foundation of IBExU by Horst Weyer (no member of the weyer gruppe)
Foundation of BDO Technik- und Umweltconsulting GmbH
Registration of the weyer gruppe in the trademark register
Foundation of weyer akademie gmbh, formerly Weyer Quadflieg Prüfgesellschaft
Foundation of the As-U Gamerith-Weyer GmbH
Founding of Weyer Polska Sp. Z.o.o.
Inclusion of CTE Chemietechnik-Engineering GmbH in the group of companies
The weyer group in figures