Once again, a well-known flat glass manufacturer has entrusted the supply of its new flat glass line with a gas mixing plant from LT GASETECHNIK.
Kabinburi Glass Industry awarded Float Glass Engineering with the order to build a float glass line in Thailand. Kabinburi is a joint venture of the companies Euroglas and Bangkok Glass. Euroglas at its locations in Germany, France and Poland has been a satisfied user of the HNX gas mixing plants from LT GASETECHNIK for many years. From this LT has earned a good reputation at Euroglas and in the glass industry as whole as a developer and manufacturer of equipment for technical gases. The experience gained in more than 45 years in this field also benefits a large number of customers in the fields of plant engineering, steel and copper processing, chemical industry, etc.
For the new float glass line near Bangkok the order comprises of a HNX gas mixing plant mounted in a 40 feet container.
In the mechanical part of the container, the temperatures, pressures and amounts of the nitrogen and hydrogen gases are measured. Controlled provided are redundantly:
Up to 1600 Nm³/h of nitrogen for the bath
up to 400 Nm³/h as control and flushing medium
up to 1600 Nm³/h of nitrogen/hydrogen mixture
The redundant plant control system and the partly redundant analysis system for the gas mixture are also mounted in a separate gas-tight area. Special features of the control system are the cascade ratio control, guaranteed mixing accuracy and the bumpless switchover.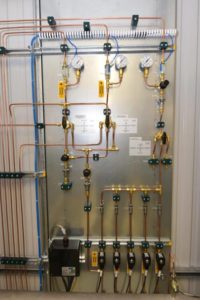 In five places, the gases are analyzed for moisture, oxygen content and hydrogen content.
Process data, alarm signals and fault messages are displayed on the local control panel and transferred to the process control system of the customer.
The plant was completely prefabricated at the LT plant and was accepted with a FAT by the customer. The container only needs to be connected and set up on site.
The project includes an independent plant control, which was engineered and programmed and installed by LT. For all projects of this kind, LT is responsible for the complete process engineering, while taking all relevant safety aspects into account. LT also carries out plant design and detailed engineering, manufactures, carries out the installation and trains operators.
A quotation from our satisfied customer: "The gas mixing plant is super!"